CHANEL Authentic Boy Hot Pink Wallet On Chain WOC Double Zip Chain Shoulder Bag Quilted Leather n53
We are happy to present you this popular Wallet On Chain / shoulder bag. It could also be used as a normal wallet by taking off the removable strap. Or as a cross-body bag, depending on your size. Overall in EXCELLENT pre-owned condition. Please do not miss it!           
Please let us explain about our authentic CHANEL bags. It is said that CHANEL bags used in Japan are in better condition than the ones in other countries. These bags were bought from reliable dealer's market.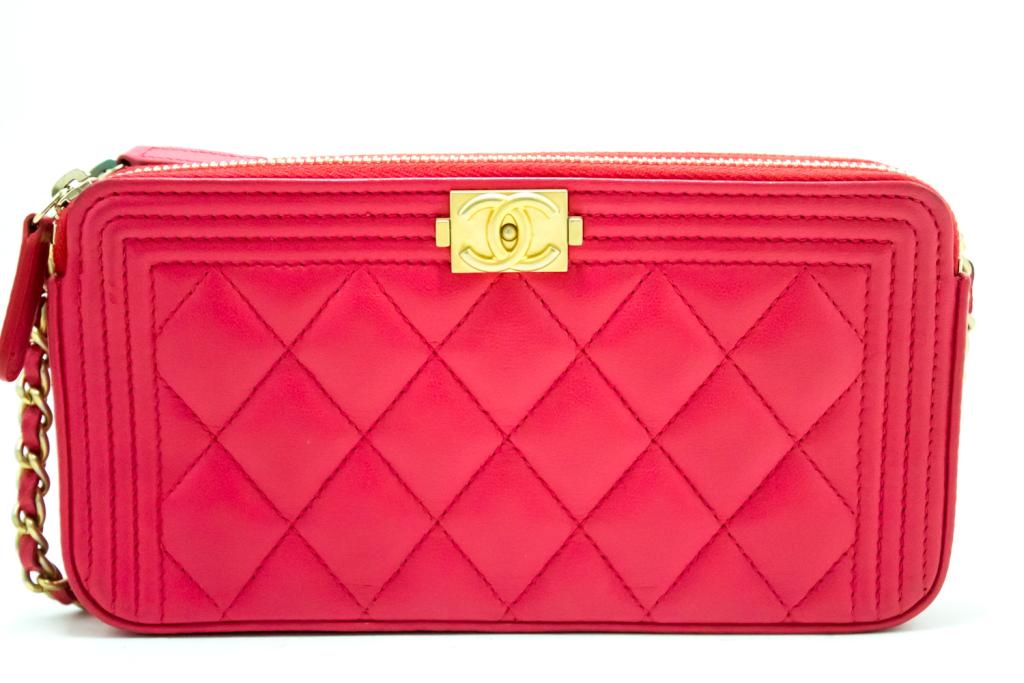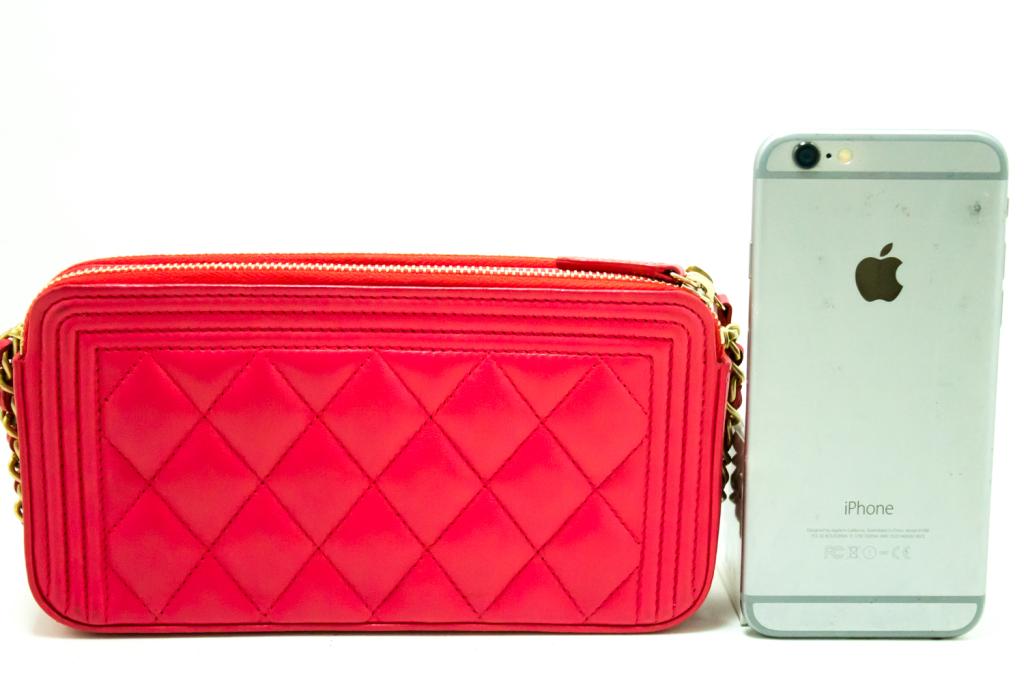 For the most valued customer like you, we DO every effort to keep bags in its best condition as follows:
Care of the leather:
You know that almost of our bags are very old and vintage. The leather of some bags looks like getting tired. We are cleaning bags by using exclusive creams, dedicated leather soaps of Europe and a clean cloth made by lamb so that the leather of the bag is made into luxurious and vivid. Thus, this bag could continue to glitter by your side with every need and scenes. Please note that we never repair or repaint the bag because of that applying paint to leather means to take the vital spirit of all. Once repainted, the bag repels cream and starts cracking.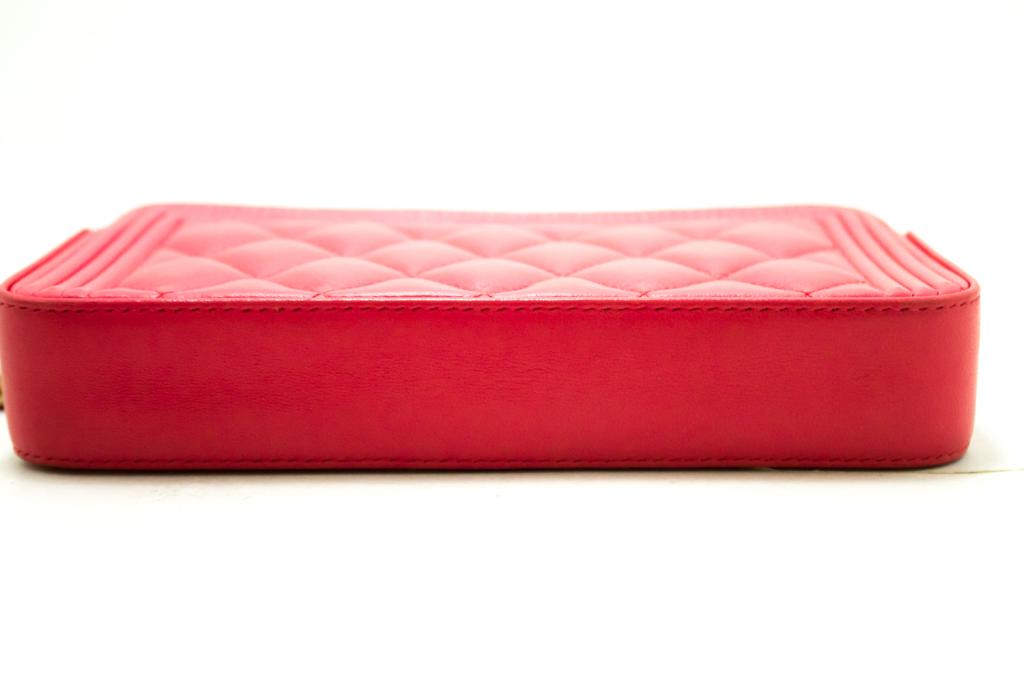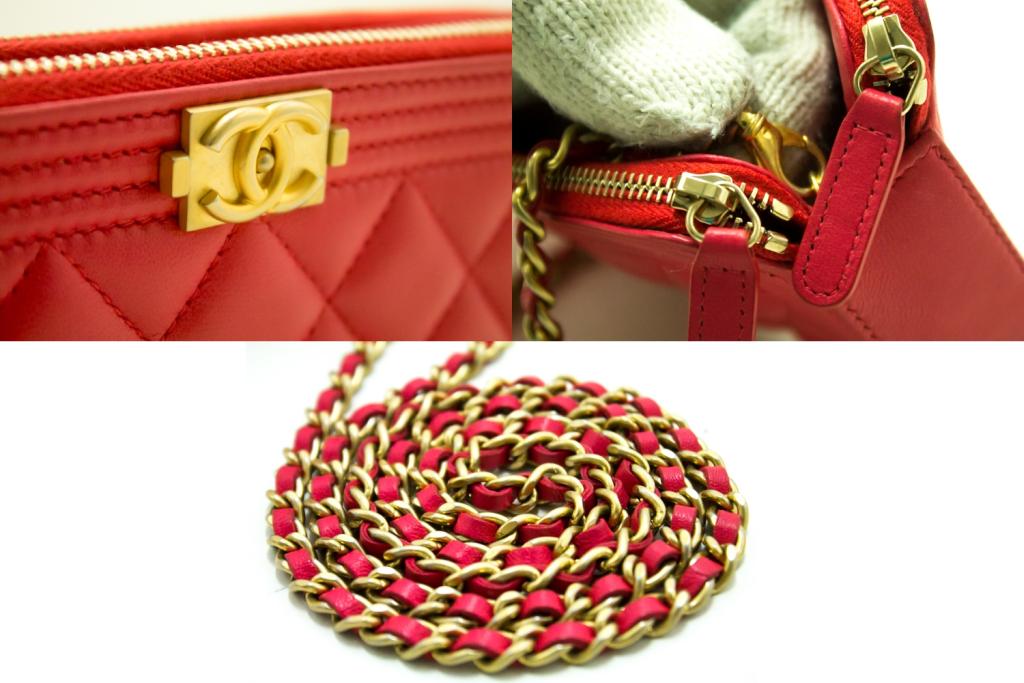 Clean and protect:
Are you concerned about some owner have touched used bags? Who has brought bags to where? We can not grasp that information because we buy bags from dealer's market. But you need not make yourself uneasy at all because of buying from us. We disinfect and deodorant for all of the bags by using a suitable and safe ozone generator for a short period of time in order to make you ease and comfortable when you receive. And after that, our professional staff inspects the gorgeous bag to every nook and corner visually. Finally, bags will wait for you to click "Add to cart" after we carry it in the moisture/sunlight-proof managed bag dedicated stockroom.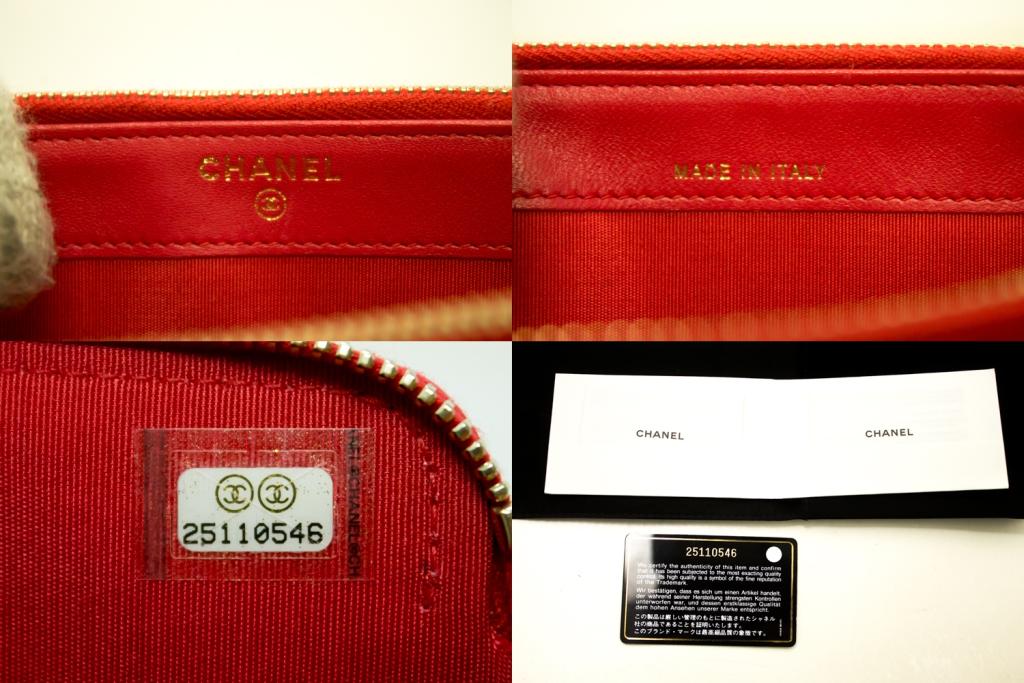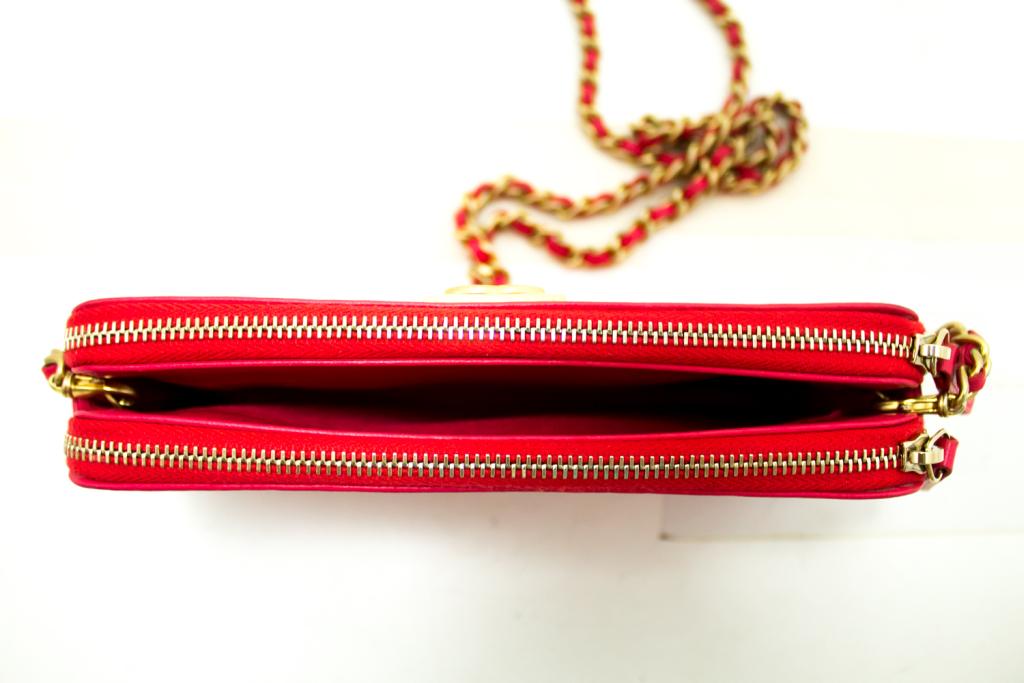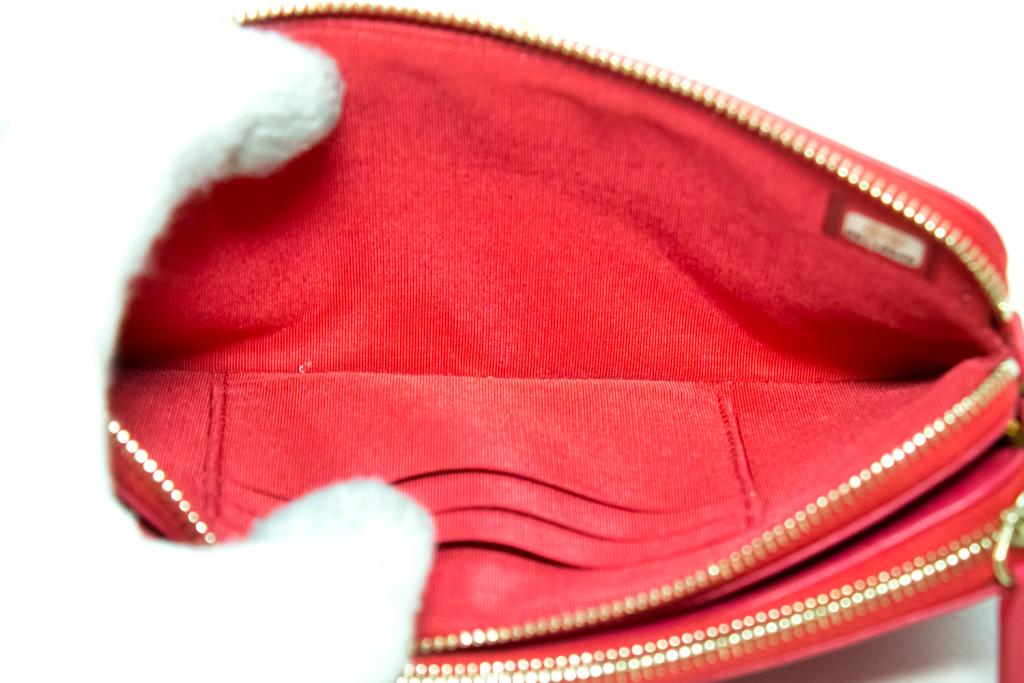 About us:
We are a second-hand dealer licensed by Japan National Public Safety Commission. To prevent fraud, Japanese government requires all second-hand dealers to have the license. We are the member of the dealer's market where only authentic bags can be sold.

We've sold over 1500 authentic CHANEL bags on eBay in five years. Many customers have received gorgeous bags from us. Are they happy with the bag? Please refer to some feedback:

+ "Exactly as described 100% authentic a pleasure to work with!" - Buyer: as******
+ "I'm very happy right now. I don't what to say how happy I am. Excellent condition" - Buyer: tr******
+ "The very best seller!!! Will buy from her again in a heartbeat!" - Buyer: jo*******
+ "Great bag and very fast service. Thank you." - Buyer: sh*******
+ "Happy and satisfied with my purse" - Buyer: mt*******
+ "Prompt communication, authentic bag, accurate description, perfectly packaged." - Buyer: la*******
+ "Quick delivery and I love the purse!!" - Buyer: co*******
+ "I love it they are amazing!! Awesome seller and accurate pics and description!" - Buyer: us*******
+ "The quality of bag and services are really good." - Buyer: le*******
+ "Absolutely Beautiful!! Exquisite.Fast delivery" - Buyer: ma*******
+ "exactly what I ordered. Beautiful handbag" - Buyer: 51*******
+ "gorgeous bag.Excellent smooth and easy transaction. Thank you." - Buyer: ma*******
and more...

Our store has over 1500 feedback and almost all of the buyers left us positive feedback. Our feedback proves that we've provided the bags of high quality at the right price and the customers are satisfied with us. We think the most important thing is to make our customers happy.

After you buy:
We will pack the item carefully and ship it out by a fast way with tracking service. You can't wait for it. Finally you receive the package and open it excitingly. Then you will see the bag you wanted. You will wear the bag by shoulder or hand, and you look yourself from various angles in the large mirror. It's important for us the moment you are wrapped with happiness. Let's resolve any mistakes or concerns here before buying. We'll do our best for you. Please feel free to ask any questions. Your bag is waiting for you. We are looking forward to your purchase.


Condition & Ratings
Overall: 8 of 10
Used only a few times. The outside is in excellent condition with minimal signs of use only. Very slight scuff marks on the edges. The inside is also excellent and very clean. All chains and hardware are excellent. The dust bag and box are also great. Highly recommended!

About Smell
Mold: NO / Perfume: NO / Cigarette: NO
It is judged by our two staff and may differ depending on the individual. Please refrain from the purchase if you are sensitive to smell.


Details
Approx. size: H3.7" x W7.2" x D1.2" (H9.5 x W18.5 x D3.1 cm)
Approx. strap drop: 23.8" (60.5 cm)
Approx. strap length: 47.6" (121 cm)

Outside material: Lambskin
Color: Hot Pink
Closure: Zipper
Hardware and chain: Mat gold-tone

Made in Italy
Serial sticker: Attached
Serial # 25110546 (Same number on the sticker and the card.)
Comes with full set: Authenticity card, Dust bag, Box, Care booklet

The mannequin may be smaller than you. She is wearing clothes in size US 6. The clothes, mannequin, and iPhone are not included. We put a security tag on the item to ensure that the item is not worn after shipped, or is not changed to a different bag. We will not accept the return if you remove our tag from the item.

100 % Authentic guaranteed or money back.

FREE SHIPPING!
The item will be shipped from Japan with full insurance and tracking service. It will be wrapped carefully by bubble wrap and a plastic bag, and put in a cardboard box.
PayPal only and must be made within 4 days of auction end.
About Us
We are a second-hand dealer licensed by Japan National Public Safety Commission. The items are bought from dealer's markets where fakes are strictly prohibited. Please bid with confidence.100 % Authentic guaranteed.


Import duties
Import duties or charges are not included in the item price or shipping charges. These charges are the buyer's responsibility. Please ask your country's Customs office to determine what these additional costs will be prior to bidding/buying. We do not falsify customs forms: the US and International government regulations prohibit such behavior.   
PLEASE CHECK OTHER ITEMS. THANK YOU!